ARKETIPE PAHLAWAN SEBAGAI REPRESENTASI FANTASI REMAJA DALAM NOVEL PERCY JACKSON SEA OF MONSTERS KARYA RICK RIORDAN
Keywords:
Arketipe, Representasi, Fantasi Remaja
Abstract
Penelitian ini menunjukkan keterkaitan fiksi fantasi, arketipe pahlawan, dan representasi fantasi remaja dalam satu di antara karya sastra fantasi, yaitu novel Percy Jackson, Sea of Monsters karya Rick Riordan. Fiksi fantasi dengan stereotip sebagai fiksi dianggap hanya memberikan tempat untuk melarikan diri dari kenyataan dan nilai-nilai realitas, aehingga kurang mendapat apresiasi yang cukup. Metode penelitian yang digunakan dalam penelitian ini adalah pendekatan arketipe dengan metode penelitian secara deskriptif-analisis dengan pendekatan objektif. Penelitian karya sastra ini menggunakan novel sebagai bahan kajian sehingga metode pengumpulan data dan bahan yang digunakan adalah penelitian kepustakaan. Studi ini menggunakan teori arketipe dari Northrop Frye. Berdasarkan dari analisis yang dilakukan dalam novel ini, peneliti menjelaskan fase-fase dialami oleh arketipe pahlawan, yaitu 1) Hal tidak bersalah yang sempurna, 2) Kepolosan muda kurang berpengalaman, 3) Penyelesaian dari sebuah cita-cita, 4) Kesalahan-kesalahan individu, 5) Hukum alam, dan 6) Dunia dalam goncangan dan menakutkan sedangkan hasil dari arketipe pahlawan sebagai representasi fantasi bagi remaja yaitu perlawanan antara baik dan jahat, pelarian dari kenyataan, serta penyelesaian kekerasan dan permusuhan.
References
Burton, Graeme. 2012. Media and Popular Culture. Yogyakarta. Jalasutra
Collins, W.A. & Repinski, D. J. 1994. Relationships during adolescence: Continuity and change in interpersonal perspective. In R. Montemayor, G.R. Adams, & T.P. Gullotta, (Eds.), Personal Relationships During Adolescence, (pp. 7-36). Thousand Oaks, CA: Sage Publications.
Campbell, Joseph. 2004. The Hero with A Thousand Faces. Princeton and Oxford. Princeton University Press
Donelson, K.L & Nilsen, A.P. 2005. Literature for Today's Young Adults (7th Ed). New York. Pearson Education
Frye, Northrop. 1990. Anatomy of Criticism: Four Essays. Princeton and Oxford. Princeton University Press
Gates, Pamela S., Susan B. Steffel, Franci J. Molson. 2003. Fantasy Literature for Children and Young Adults. Maryland and Oxford. The Scarecrow Press
Halldorson. 2007. The Hero in Contemporary American Fiction.New York. Palgrave Macmillan
Hall, Stuart. 1997. Representation: Cultural Representations and Signifying Practices. London. SAGE Publications Ltd. and the Open University Press.
Lee, Li-Feng. 2007. The Response of Taiwanese Adolescent Girls to Selected American Short Stories for Young Adults. Doctoral Dissertation. Ohio State University
Opheim, Anna Patricia.T. 2010. Once Upon a Time in a Fantasy: A Study of Fairytale Elements in Fantasy. Thesis. University of Stavanger.
Pearson, S. C. 1991. Awakening the Heroes Within: Twelve Archetypes to Help Us Find Ourselves and Transform Our World . New York: Harper Collins Publishers.
Riordan, Rick. 2007. Percy Jackson and Sea of Monsters. Miramax books
Schaafsma, Karen. 1986. "Wondrous Vision: Transformation of the Hero in Fantasy through Encounter with the Other." William Coyle, ed. Aspects of Fantasy. Westport, Conn. Greenwood Press.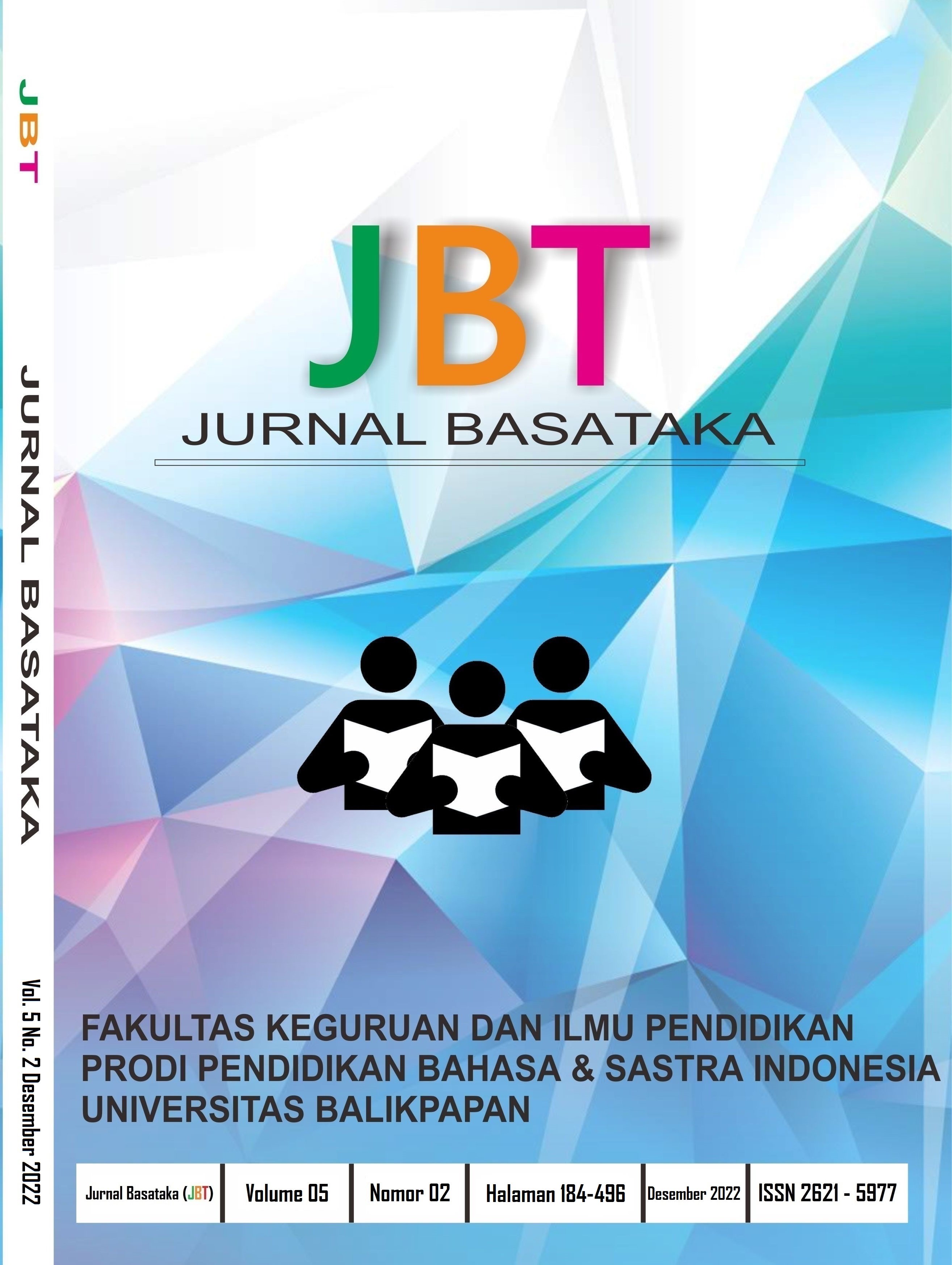 Downloads
How to Cite
Prautomo, A., & Wahyuni, W. (2022). ARKETIPE PAHLAWAN SEBAGAI REPRESENTASI FANTASI REMAJA DALAM NOVEL PERCY JACKSON SEA OF MONSTERS KARYA RICK RIORDAN . Jurnal Basataka (JBT), 5(2), 394–412. https://doi.org/10.36277/basataka.v5i2.161