FIGURATIVE LANGUAGE USED IN THE GREATEST SHOWMAN SOUNDTRACK LYRICS
Keywords:
Music, Song Lyrics, Soundtrack, Figurative Language
Abstract
This study is entitled Figurative Language Used In The Greatest Showman Soundtrack  Lyrics.This study aims to analyze figurative language or figurative language in four songs which are the soundtrack of the film The Greatest Showman, in which the four songs are titled, Never  Enough, This Is Me, and A million Dream.The benefits of this research are divided into two, namely: theoretically this research aims to help become a reference for other researchers, and the second is the benefits for students, namely to increase students' understanding of language style and to help improve students' literacy skills. This study uses a descriptive qualitative approach with literature study techniques. The results of the research are that there are five styles of language in the song above, namely: personification (1.2%), metaphor (1.2%), hyperbole (2.4%), imagery (0.2%), and repetitive (1.4%).
References
Arikunto, S. (2006). Prosedur Penelitian: Sebuah Pendekatan Praktik. Jakarta: Rineka Cipta.
Ibrahim, I., Akib, M., & Hasyim, R. (2019). The Analysis of Figurative Language in "Endless Love" Song Lyric. Lisan: Jurnal Bahasa dan Linguistik, 8 (2), 119–130. https://doi.org/10.33506/li.v8i2.464.
Jamalus. 1988. Panduan Pengajaran Buku Pengajaran Musik Melalui Pengalaman Musik. Jakarta: Pengembangan Lembaga Pendidikan University.
Kreidler (1998). Introducing English Semantics. London: Routledge.
Lyons, J. (1977). Semantics. Cambridge: Cambridge University Press.
Moleong, Lexy. 2014. Metode Penelitian Kualitatif Edisi Revisi. Jakarta: Remaja Rosda Karya.
Septika, H. D., & Prasetya, K. H. (2020). Local Wisdom Folklore for Literary Learning in Elementary School. Pendas: Jurnal Ilmiah Pendidikan Dasar, 5 (1), 13-24.
Subakti, H., Salim, N. A., Prasetya, K. H., Septika, H. D., & Oktaviani, S. (2021). Does learning in mother tongue matter? Analysis of the Use of Kutai Language in Elementary Schools Learning. Ilkogretim Online, 20 (4).
Sugiyono. (2017). Metode Penelitian Kuantitatif, Kualitatif, dan R&D. Bandung: CV. Alfabeta.
Williams, P. E. V., Macdearmid, A., Innes, G. M., Gauld, S. A., 1984. Ammonia-treated barley straw and rolled barley offered either together, in a mixed ration, or successively to beef steers. Anim. Feed Sci. Technol. 10: 247-255.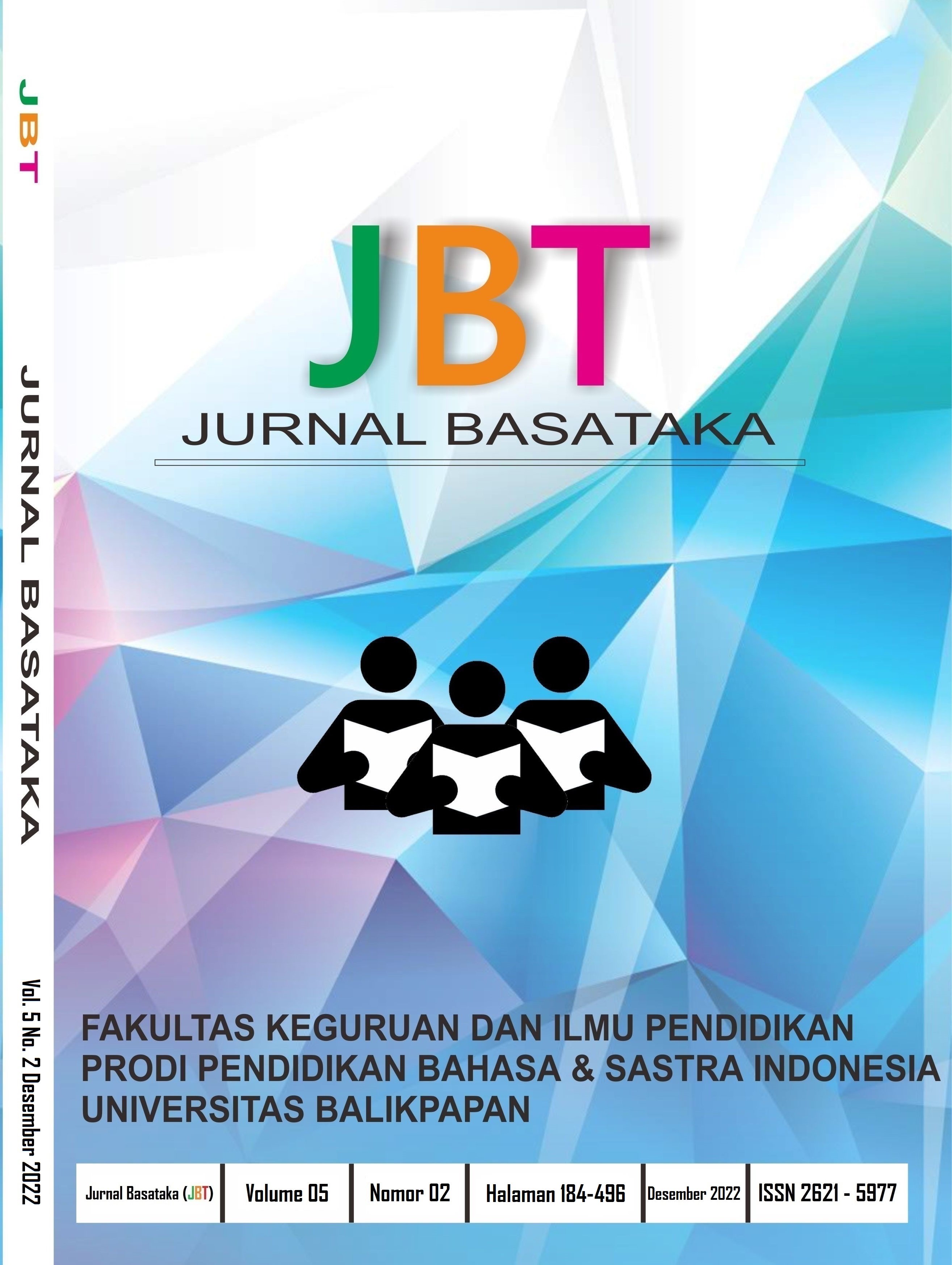 Downloads
How to Cite
Marpaung, N., Madina, M., & Sipahutar, A. F. Y. . (2022). FIGURATIVE LANGUAGE USED IN THE GREATEST SHOWMAN SOUNDTRACK LYRICS. Jurnal Basataka (JBT), 5(2), 430–438. https://doi.org/10.36277/basataka.v5i2.199
License
Copyright (c) 2022 Natalia Marpaung, Madina Madina, Afrida Fitri Yani Sipahutar
This work is licensed under a Creative Commons Attribution-ShareAlike 4.0 International License.