THE EFFECT OF JEOPARDY GAME ON STUDENTS' READING COMPREHENSION
Keywords:
Jeopardy Game, Reading Comprehension
Abstract
The problem of this research is does jeopardy game give an effecton reading students'comprehension. This research is conduct for eight-grade SMP Advent 2 Medan in academic year 2021/2022. This quantitative research is experimental research uses pretest, treatment, and post-test design. The population of this study is SMP Advent 2 Medan and samples are 46 students. Data are collected through multiple-choice tests consisting of 20 questions with four options. Jeopardy game contains independent variable of the study, while understanding the students reading is a dependent variable. According to compilation, test result shows the average score of exsperimental group is 100 which is considered very good, and the control group is 95, which is considered very good. Conclusion of this research is using jeopardy game as an effective strategy to enhance the reading of understanding students at SMP Advent 2 Medan.
References
Arifin Zaenal (2009) Evaluasi Pembelajaran. Bandung:PT Remaja Rosdakarya.
Faishol, R., Hudaa, S., Wilsa, A. W., Prasetya, K. H., Musdolifah, A. (2021). Management of Information and Communication Technology (ICT) Learning Packages. In Proceedings of the International Conference on Industrial Engineering and Operations Management Monterrey (Vol. 3, No. 5, pp. 1045-1060).
Husein, Umar. 2008.Metode Penelitian Untuk Skripsi dan Tesis Bisnis.Jakarta. PTRajagrafindo Persada.
Jasmadi, 2010. Menyusun Presentasi Pembelajaran Berbasis Teknologi Informasi Dan Komunikasi (TIK) dengan MS Office 2010. Penerbit PT. Elex Media Komputindo. Jakarta.
Nasution (2003). Metode Penelitian Naturalistik Kualitatif. Bandung: Tarsito.
Septika, H. D., & Prasetya, K. H. (2020). Local Wisdom Folklore for Literary Learning in Elementary School. Pendas: Jurnal Ilmiah Pendidikan Dasar, 5 (1), 13-24.
Silaen, S. (2018) Metodologi Penelitian Sosial untuk Penulisan Skripsi dan Tesis. Bogor: In Media.
Subakti, H., Handayani, E. S., Salim, N. A., Prasetya, K. H., & Septika, H. D. (2022). Analysis of Students' Learning Outcomes Attention Deficit Hyperactivity Disorder in Indonesian Learning at Elementary School in Samarinda City. AL-ISHLAH: Jurnal Pendidikan, 14 (2), 1933-1938.
Sugiyono. (2005:96). Metode Penelitian Bisnis. Bandung : Alfabeta
Tarigan, H. G. 2008. Membaca: Sebagai Suatu Keterampilan Berbahasa. Edisi Revisi. Bandung: Angkasa.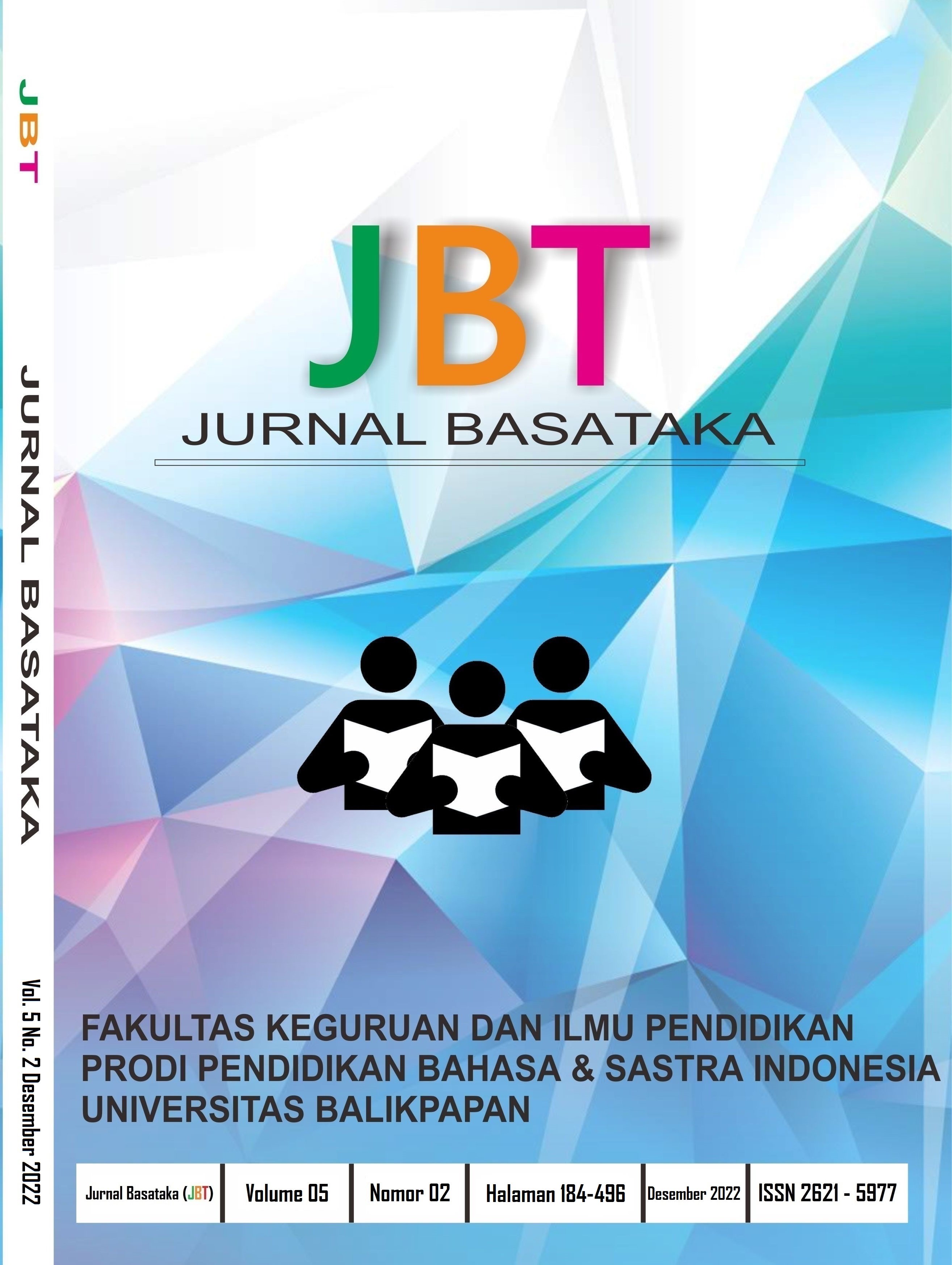 Downloads
How to Cite
Simbolon, A., Simanjuntak, N. ., Pardede, R. A. ., Gultom, S. ., Tarigan, N. W. P. ., & Simbolon, R. . (2022). THE EFFECT OF JEOPARDY GAME ON STUDENTS' READING COMPREHENSION. Jurnal Basataka (JBT), 5(2), 472–476. https://doi.org/10.36277/basataka.v5i2.203
License
Copyright (c) 2022 Astuty Simbolon, Nursia Simanjuntak, Rut Ayzta Pardede, Sarah Gultom, Natalia Widya Pasca Tarigan, Rinci Simbolon
This work is licensed under a Creative Commons Attribution-ShareAlike 4.0 International License.