IMPROVING ABILITY OF STUDENTS IN LISTENING SKILL FOR JUNIOR HIGH SCHOOL BY USING AUDIO-VISUAL METHOD
Keywords:
Improving, Listening, Audio Visual
Abstract
Listening skill is the ability to receive and a communication technique where listeners can understand what is heard, so that good communication can be established well too. In this study, the design used by the researcher is the CAR research design (Classroom Action Research) which is carried out with research procedures based on the Kemmis and Taggart principles which include planning, action, observation, reflection or evaluation activities. This study found that the lack of students' ability to listen and listen in learning English makes students' interest in learning decline. To improve students' listening skills in Junior High School, by using audio-visual media as a learning method and how this audio-visual media can influence students to be more active in learning to listen to English well. The data collection of this research was taken from 12 students of SMP DWIWARNA in class VIII, so that this research got a method for good results in the listening learning process using audio-visual for junior high school students. In general, it can be concluded that audio-visual can improve students' focus and concentration in learning listening and the choice of topic material is also very influential on student learning outcomes in listening.
References
Astini Agun Student. (2018). The Implementation Of Storytelling To Improve Listening Skill Of The 8th Grade Students Of Smpn 1 Yogyakarta.
Dahir, D. (2018). Meningkatkan Kemampuan Menyimak (Listening Skill) Peserta Didik Kelas Xii Sma Negeri 2 Kampar Melalui Pronunciation "Odd One Out. Jurnal Pendidikan Tambusai, 2, 1384–1400. https://www.jptam.org/index.php/jptam/article/view/124/115.
Hardiah, M. (2019). Improving Students Listening Skill by Using Audio Visual Media. Al-Lughah: Jurnal Bahasa, 7(2), 39. https://doi.org/10.29300/lughah.v7i2.1673.
Saidaturrohmah, U. (2017). Implementasi Media Audio Visual Dalam Pembelajaran Sejarah Kebudayaan Islam (Ski) Di Kelas V Mi Al-Islam Bangsri Jepara. Nuevos Sistemas de Comunicación e Información, 2013–2015.
Septika, H. D., & Prasetya, K. H. (2020). Local Wisdom Folklore for Literary Learning in Elementary School. Pendas: Jurnal Ilmiah Pendidikan Dasar, 5 (1), 13-24.
Subakti, H., Salim, N. A., Prasetya, K. H., Septika, H. D., & Oktaviani, S. (2021). Does learning in mother tongue matter? Analysis of the Use of Kutai Language in Elementary Schools Learning. Ilkogretim Online, 20 (4).
Suwanto, S. (2018). Upaya Meningkatkan Kemampuan Mendengarkan Bahasa Inggris Melalui Metode Pembelajaran Audio Visual pada Siswa Kelas VIII SMPN 2 Dawarblandong Tahun Pelajaran 2017/2018. Didaktis: Jurnal Pendidikan Dan Ilmu Pengetahuan, 18(2), 119–138. https://doi.org/10.30651/didaktis.v18i2.1604
Yanti, M. Y. M. (2020). Kemampuan Menyimak Fabel Menggunakan Media Audio Visual Siswa Kelas Vii Smp Negeri 2 Masamba Kabupaten Luwu Utara. http://repository.uncp.ac.id/663/.
Yefridelti, Y. (2018). Improving Student Listening Ability Through Audio-Visual Application At Smpn 2 Painan. Jurnal Ilmiah Pendidikan Scholastic, 2(2), 97–106. https://doi.org/10.36057/jips.v2i2.271.
Yunita Ika. (2015). Meningkatkan Keterampilan. Pendidikan, 2(2), 1041–1047.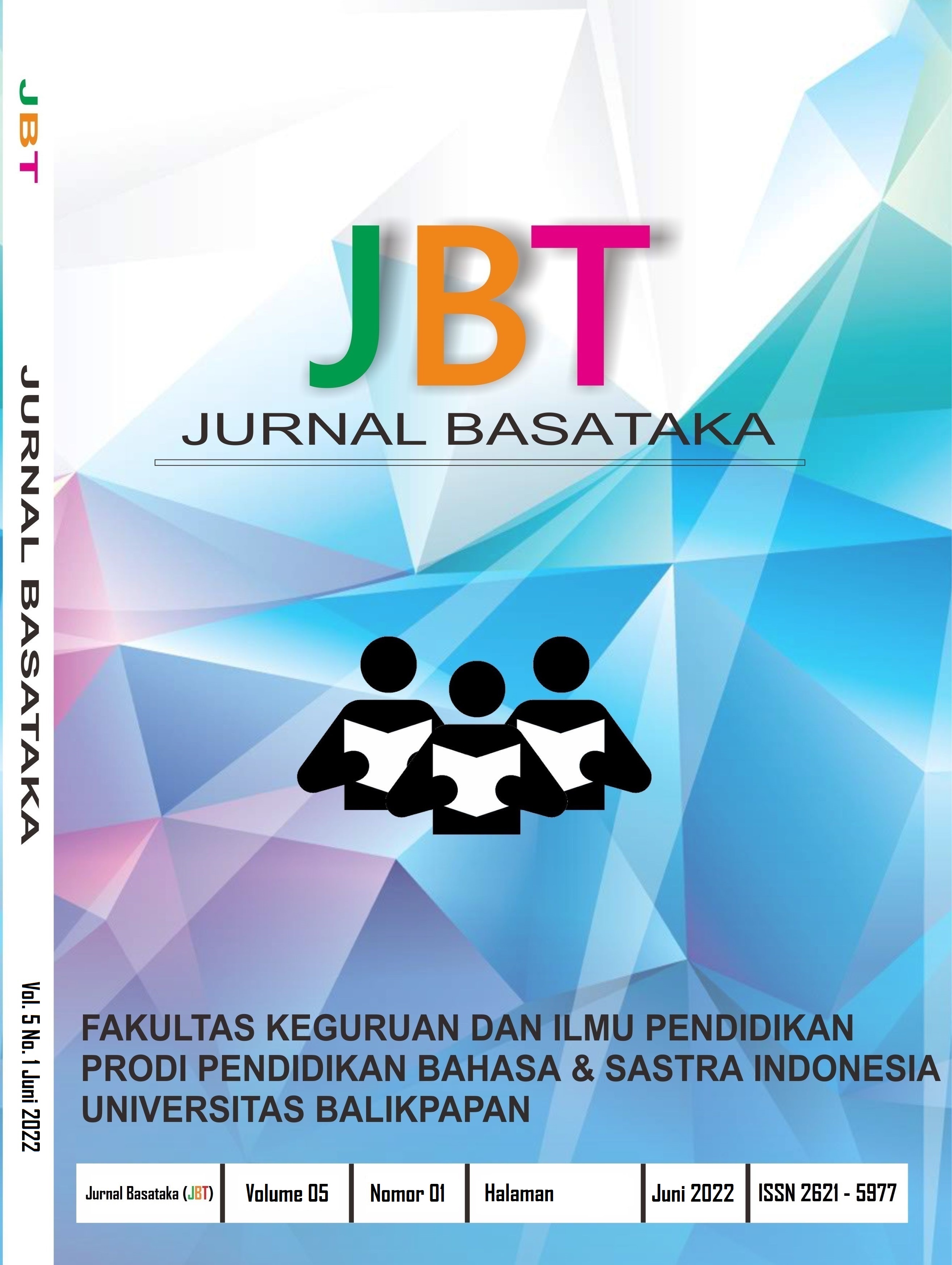 Downloads
How to Cite
Hasibuan, M. S., Manalu, L. A. ., & Tarigan, S. N. . (2022). IMPROVING ABILITY OF STUDENTS IN LISTENING SKILL FOR JUNIOR HIGH SCHOOL BY USING AUDIO-VISUAL METHOD. Jurnal Basataka (JBT), 5(1), 19–26. https://doi.org/10.36277/basataka.v5i1.142