USING DUET TECHNIQUE OF ENGLISH SONG ON THE TIKTOK APPLICATION TO STUDENTS' SPEAKING SKILLS
Keywords:
Speaking Skills, Tiktok, English Song
Abstract
This study focuses on the topic of teaching students to talk more fluently in English by using duet approaches. The researchers employed qualitative techniques to meet their goals. The researcher may choose to gather information through questionnaires. There were 20 students in the class X MIA at SMA Swasta GKPI Padang Bulan who made up the study's population. For the research to go without a hitch, three songs have been prepared: Perfect by Ed Sheeran, Talking to The Moon by Bruno Mars, and I'm Yours by Jason Mraz. Pre speaking activities, speaking activities, and post speaking activities were the three sections into which research was separated throughout two meetings. Assessment is broken down into three components: pronunciation, fluency, and comprehension. Students' present a duet using their own knowledge during the first meeting. The researchers then provided an explanation before to testing the students at the second meeting. The study's finding is that using the duet technique helps students develop their speaking abilities.
References
Brown, H. D. (2004). Language Assesment, Principles and Classroom Practice. Longman: San Francisco State University.
Fahdin, R.G.P (2020). Student's Perception toward The Use of Tik Tok in Learning English Vocabulary. Khazanah: Jurnal Mahasiswa, 12 (2), 27458733. https://doi.org/10.20885/khazanah.vol12.iss2.art47
Griffe, D. T. 2001. Songs in Action. Hertfordshire: Prentice Hall International.
Pratiwi, A. E., Ufairah, N.N., & Sopiah, R.S (2021). Utilizing Tiktok Application as Media for Learning English Pronunciation. International Conference on Education of Suryakancana, February, 4–10.
Septika, H. D., & Prasetya, K. H. (2020). Local Wisdom Folklore for Literary Learning in Elementary School. Pendas: Jurnal Ilmiah Pendidikan Dasar, 5 (1), 13-24.
Sinta, I., & Zulfitri. (2022). Students' Experience in Vocabulary Memorizing of Adjective by Using TikTok Duet Video. Cybernetics: Journal Educational Research and Sosial Studies, 3, 1–10.
Subakti, H., Handayani, E. S., Salim, N. A., Prasetya, K. H., & Septika, H. D. (2022). Analysis of Students' Learning Outcomes Attention Deficit Hyperactivity Disorder in Indonesian Learning at Elementary School in Samarinda City. AL-ISHLAH: Jurnal Pendidikan, 14(2), 1933-1938.
Subakti, H., & Prasetya, K. H. (2020). Pengaruh Pemberian Reward and Punishment Terhadap Motivasi Belajar Bahasa Indonesia Siswa Kelas Tinggi di Sekolah Dasar. Jurnal Basataka (JBT), 3(2), 106-117.
Subakti, H., Salim, N. A., Prasetya, K. H., Septika, H. D., & Oktaviani, S. (2021). Does learning in mother tongue matter? Analysis of the Use of Kutai Language in Elementary Schools Learning. Ilkogretim Online, 20 (4).
Yang, H. (2020). Secondary-school students' perspectives of utilizing tiktok for English learning in and beyond the EFL classroom. 3rd International Conference on Education Technology and Social Science (ETSS 2020), Etss, 162–183.
Zaitun, Hadi, M. S., & Indriani, E. D. (2021). TikTok as a Media to Enhancing the Speaking Skills of EFL Students. Jurnal Studi Guru Dan Pembelajaran, 4 (1), 89–94. https://e journal.my.id/jsgp/article/view/525.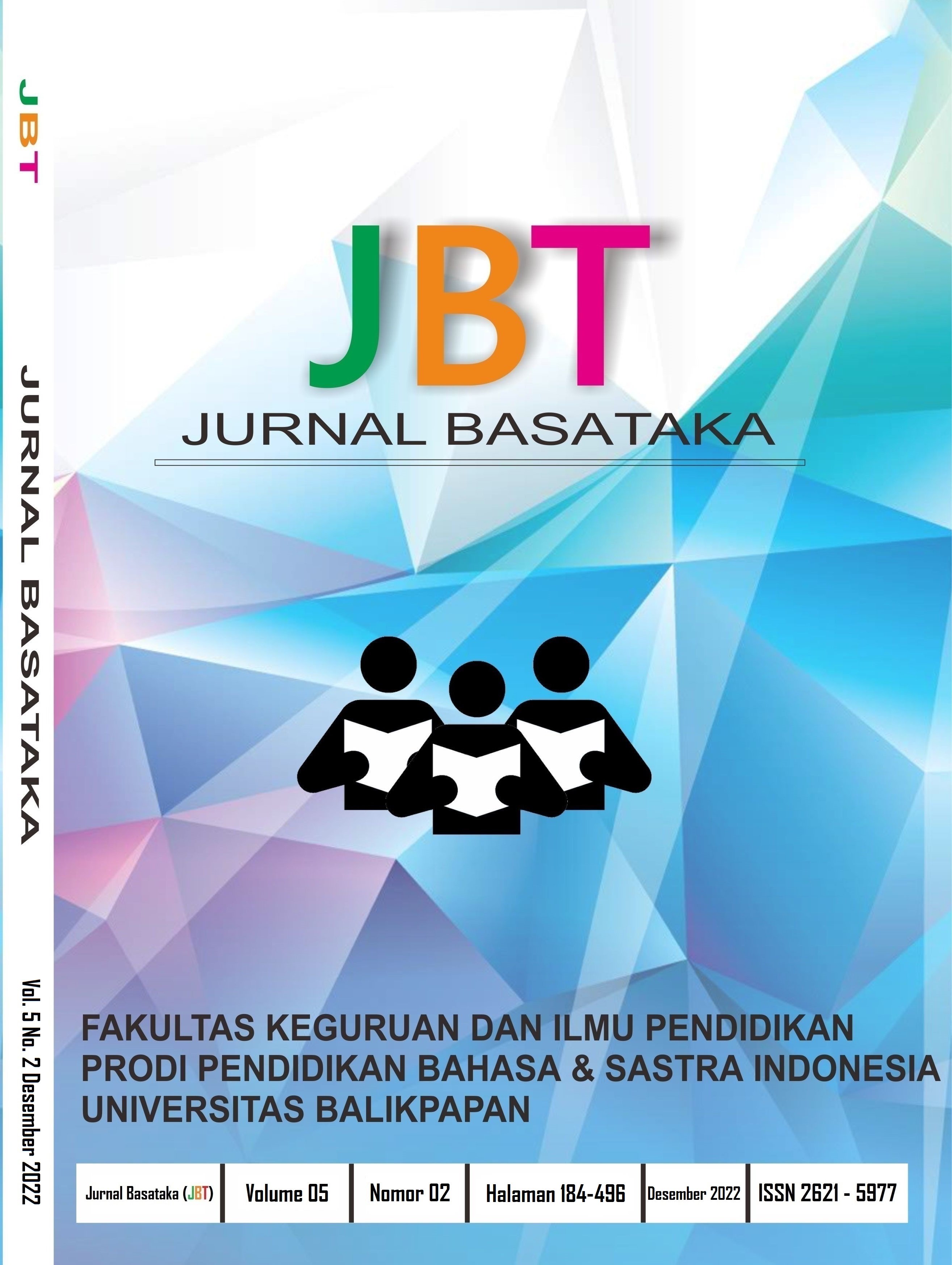 Downloads
How to Cite
Pasaribu, M. ., Gultom, S. I. ., Sagala, S. D. B. ., Tarigan, S. N. ., & Sarjana Siregar, T. M. (2022). USING DUET TECHNIQUE OF ENGLISH SONG ON THE TIKTOK APPLICATION TO STUDENTS' SPEAKING SKILLS. Jurnal Basataka (JBT), 5(2), 239–245. https://doi.org/10.36277/basataka.v5i2.178