THE ANALYSIS OF FIGURATIVE LANGUAGE IN SONG LYRIC BY INDINA MENZEL
Keywords:
Figurative Language, Song Lyrics, Connotative, Denotative
Abstract
In writing songs, songwriters often use figurative language. In this study, the researchers analyzed the figurative language contained in three of Idina Menzel's songs, namely "Let It Go", "I Got My Love to Keep Me Warm" and "For The First Time in Forever". The objective of this study is to find out the type of figurative language used and the meaning represented by the figurative language in the three songs of Idina Menzel. The theoretical benefit of this study is that this study can be a reference to other researchers who do similar study. While practical benefits are divided into two, for students and teachers. For students, research may be useful to increase understanding and knowledge of figurative language; increase students literacy motivation, especially figurative language observation; and students become more creative and critical. For teachers, this research can be useful as a reference in learning, especially figurative language; gain new experiences in different learning situations; and maximize teacher satisfaction because students' language skills are increasing. This study is a descriptive qualitative approach. Results of study found that there were eleven figurative languages used by songwriters, namely hyperbole as much as 31.3%, repetition 25.4%, personification 9.8%, metaphor, simile, and alliteration 5.8%, onomatopoeia, irony, and idiom. 3.9%, and finally imagery and pleonasm 1.9%. In addition, the songwriter also uses connotative and denotative meanings in the three songs.
References
Bonvillain, N. (2003). Language Culture, and Communication: The Meaning of Messages (Fourth). Pretince Hall.
Genius. (2013). Idina Menzel – Let It Go Lyrics | Genius Lyrics. Genius Media Group, Inc. https://genius.com/Idina-menzel-let-it-go-lyrics
Genius. (2019). Idina Menzel – I Got My Love To Keep Me Warm Lyrics | Genius Lyrics. Genius Media Group, Inc. https://genius.com/Idina-menzel-i-got-my-love-to-keep-me-warm-lyrics
Genius. (2020). Kristen Bell & Idina Menzel – For the First Time in Forever Lyrics | Genius Lyrics. Genius Media Group, Inc. https://genius.com/Kristen-bell-and-idina-menzel-for-the-first-time-in-forever-lyrics
H.B, S. (2006). Metodologi penelitian kualitatif: dasar teori dan terapannya dalam penelitian. http://lib.ui.ac.id
Hariyanto. (2017). The Analysis of Figurative Language used in the Lyrics of Firework by Katy Perry (A Study of Semantics). English Education: Jurnal Tadris Bahasa Inggris, 10(1), 46–60.
Hulu, D. A., Nova, E., Sembiring, B., Widya, N., & Tarigan, P. (2021). An Analysis of Figurative Language in Ariana Grande's Album "Thank U, Next." Linguistic, English Education and Art (LEEA) Journal, 4(2), 317–327. https://doi.org/10.31539/LEEA.V4I2.1954
Ibrahim, I., Akib, M., & Hasyim, R. (2019). The Analysis of Figurative Language in "Endless Love" Song Lyric. Lisan: Jurnal Bahasa Dan Linguistik, 8(2), 119–130. https://doi.org/10.33506/li.v8i2.464
Ifadah, M., & Aimah, S. (2012). Keefektifan Lagu sebagai Media Belajar dalam Pengajaran Pronounciation/Pengucapan. Seminar Hasil-Hasil Penelitian-LPPM UNIMUS, 363–370.
Listiani, H. (2015). An Analysis of Figurative Language Found on The Song Lyric by Taylor Swift's "Speak Now" Album. State Institute for Islamic Studies Salatiga, 144. http://e-repository.perpus.iainsalatiga.ac.id
Mari'fah, I. (2014). VALIDITAS PENELITIAN KUALITATIF. http://indriyani-marifah.blogspot.com/2014/04/validitas-penelitian-kualitatif.html
Merriam-Webster. (n.d.). Let it go Definition & Meaning - Merriam-Webster. Merriam-Webster.Com Dictionary. Retrieved November 21, 2021, from https://www.merriam-webster.com/dictionary/let it go
Moeliono, (peny). (2003). Kamus Besar Bahasa Indonesia. Balai Pustaka.
Suka, Ginting; Jeremia, J. (2019). A Description of Figurative Language Found in Selected Lyrics of One Direction Song. https://repositori.usu.ac.id/handle/123456789/21545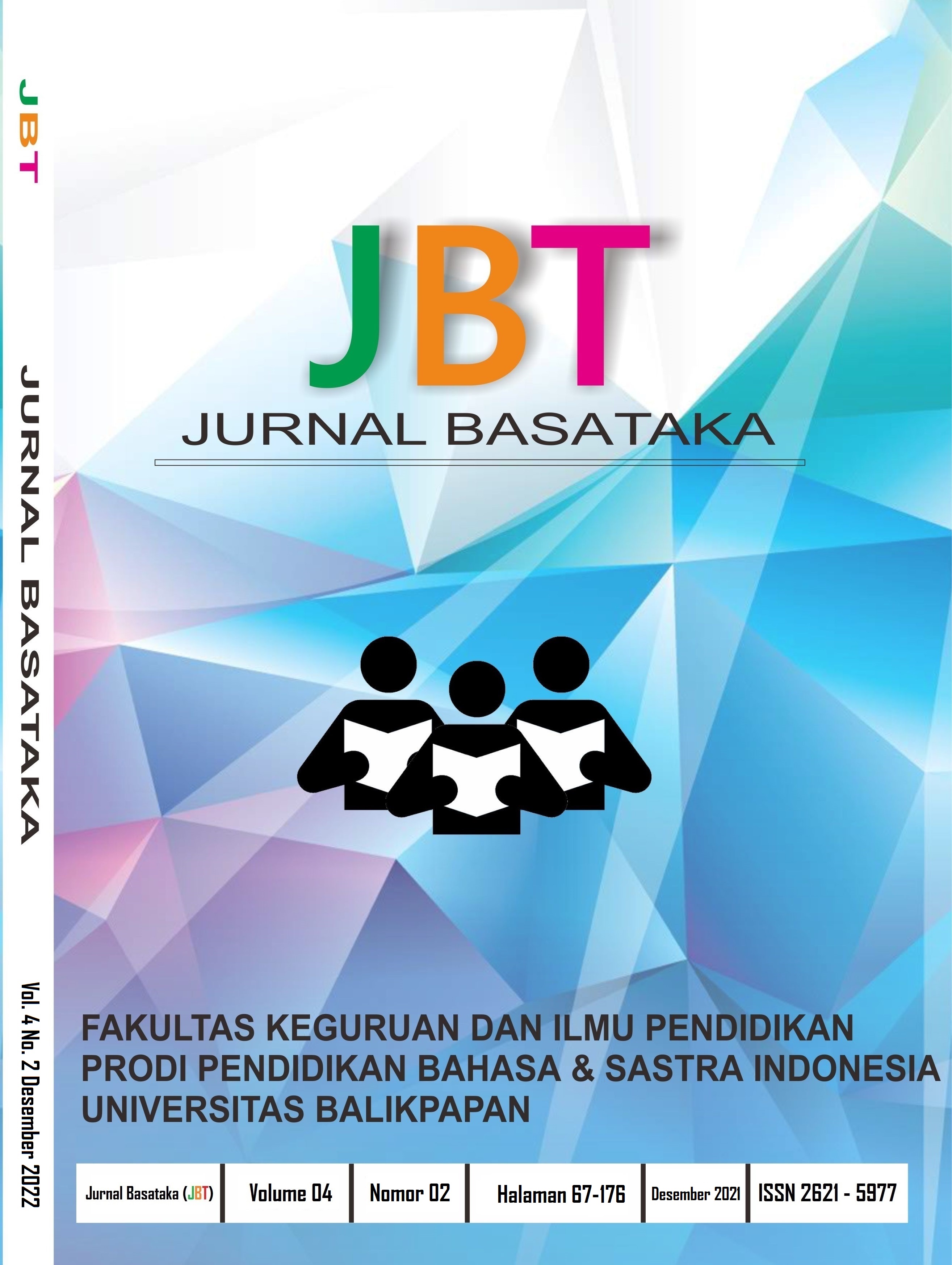 Downloads
How to Cite
Yunanda, F., Pardede, Y. K. P. ., Wati, N. E. ., Deaparin, A. S. ., & Tafonao, A. E. K. . (2021). THE ANALYSIS OF FIGURATIVE LANGUAGE IN SONG LYRIC BY INDINA MENZEL. Jurnal Basataka (JBT), 4(2), 129–138. Retrieved from https://jurnal.pbsi.uniba-bpn.ac.id/index.php/BASATAKA/article/view/127