GRAMMATICAL ERRORS IN WRITING DESCRIPTIVE TEXT MADE BY TENTH GRADERS OF SMA SWASTA FREE METHODIST MEDAN
Keywords:
Writing, Descriptive Text, Grammatical Error, Error Analysis
Abstract
This research was conducted to identify the various types of errors made in English descriptive texts written by tenth graders at Free Methodist Private High School Medan during the 2022-2023 academic year. This research was conducted on 36 students who became the focus of the research. This research method is descriptive qualitative. Research is conducted offline. Written test-based data collection method. The researcher checked the writing errors of the descriptive texts made by the students. This study concentrates on the categorization of writing errors made by students. The Surface Strategy Taxonomy analysis of the findings revealed 30 inaccuracies in student-submitted descriptive texts. There were 9 addition errors with a total of 30%, 16 errors of omission with a total of 54%, 5 misformation errors with a total of 16%, and 0 ordering errors with a total of 0%. The majority of errors, or 15 out of 30, are spelling (Spelling) errors, which are classed as errors within omission errors. In conclusion, the researchers found 30 errors in the descriptive text written by class X IPS 1 SMA Medan Free Methodis.
References
Alshenqeeti, H. (2014). Interviewing as a data collection method: A critical review. English Linguistics Research, 3(1), 39–45.
Amin, R. A. (2022). An Analysis of Grammatical Errors in Writing Descriptive Text Made by Tenth Graders of Sman 2 Tarakan.
Etikan, I., Alkassim, R., & Abubakar, S. (2016). Comparision of Snowball Sampling and Sequential Sampling Technique. Biometrics and Biostatistics International Journal, 3(1), 55.
Granato, D., de Araújo Calado, V. M., & Jarvis, B. (2014). Observations on the use of statistical methods in food science and technology. Food Research International, 55, 137–149.
Howes, D. (2021). Empire of The Senses: The Sensual Culture Reader. Routledge.
Irawati, H. (2015). Error Analysis On Grammatical Aspects of Student's Narrative Writing. Getsempena English Education Journal, 2 (1), 1–14.
Kareviati, E., Yugafiati, R., & Resmini, S. (2019). Need Analysis of English Department Students as The Basic of Material Development of Writing for General Communication. Eltin Journal: Journal of English Language Teaching in Indonesia, 8(1), 1–9.
Klein, G. A. (2017). Sources of power: How people make decisions. MIT Press.
Male, T. (2016). Analysing qualitative data. Doing Research in Education: Theory and Practice, 1, 177–191.
Rivas, C. (2012). Coding and analysing qualitative data. Researching Society and Culture, 3 (2012), 367–392.
Sari, H. L., & Kaba, A. M. (2019). Students' Ability in Writing Argumentative Essay Analytical Approach. Conference Proceeding Iconimad, 589.
Septika, H. D., & Prasetya, K. H. (2020). Local Wisdom Folklore for Literary Learning in Elementary School. Pendas: Jurnal Ilmiah Pendidikan Dasar, 5(1), 13-24.
Sivarajah, U., Kamal, M. M., Irani, Z., & Weerakkody, V. (2017). Critical analysis of Big Data challenges and analytical methods. Journal of Business Research, 70, 263–286.
Subakti, H., Handayani, E. S., Salim, N. A., Prasetya, K. H., & Septika, H. D. (2022). Analysis of Students' Learning Outcomes Attention Deficit Hyperactivity Disorder in Indonesian Learning at Elementary School in Samarinda City. AL-ISHLAH: Jurnal Pendidikan, 14(2), 1933-1938.
Subakti, H., Salim, N. A., Prasetya, K. H., Septika, H. D., & Oktaviani, S. (2021). Does learning in mother tongue matter? Analysis of the Use of Kutai Language in Elementary Schools Learning. Ilkogretim Online, 20 (4).
Tahir, S. Z., & Hanapi, H. (2017). Lecturers' Method in Teaching Speaking at the University of Iqra Buru. International Journal of English Linguistics, 7(2), 73–80.
Vermeer, H. J., & Chesterman, A. (2021). Translational Action by Skopos and Commission. In The Reader of Translation Studies (pp. 219–230). Routledge.
Yilmaz, K. (2013). Comparison of Quantitative and Qualitative Research Traditions: Epistemological, Theoretical, and Methodological Differences. European Journal of Education, 48(2), 311–325.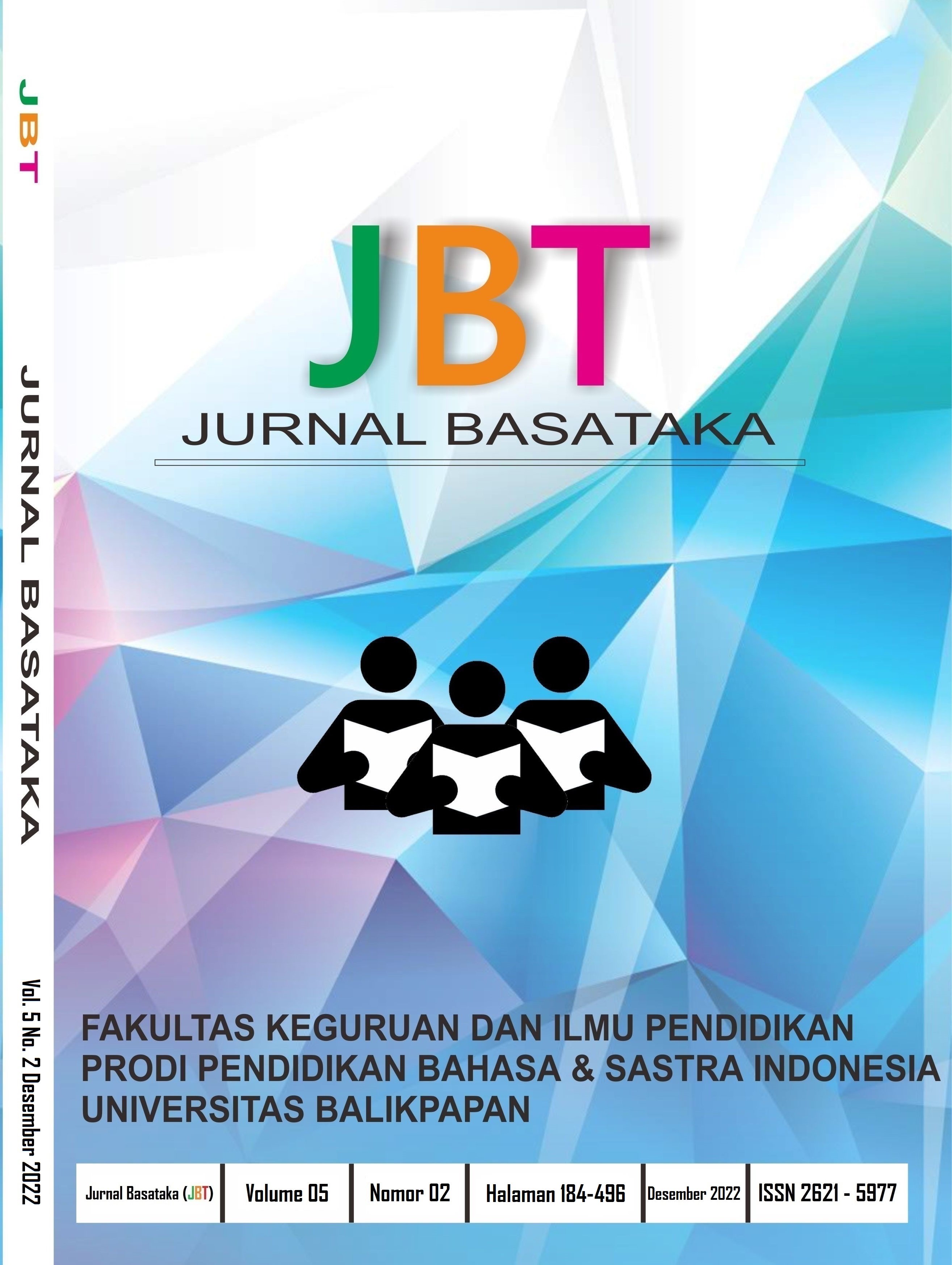 Downloads
How to Cite
Yunanda, F., Sinaga, P. A. ., Siahaan, M. P. ., Ginting, R. P. ., & Lubis, B. N. A. . (2022). GRAMMATICAL ERRORS IN WRITING DESCRIPTIVE TEXT MADE BY TENTH GRADERS OF SMA SWASTA FREE METHODIST MEDAN. Jurnal Basataka (JBT), 5(2), 191–199. https://doi.org/10.36277/basataka.v5i2.175